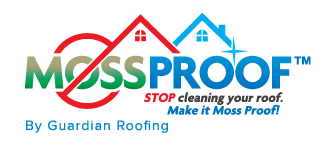 "An ounce of prevention is worth a pound of cure."

Benjamin Franklin
Experiencing a leak in your roof is a frustrating and sometimes scary experience. Usually there is no warning of the issue, and when it pops up, you have to scramble to find someone to fix the problem.
If this happens after a major storm, finding a quality contractor can be a challenge because they all are so busy!
The sad truth is that many of these leaks could have been avoided by having the roof maintained and inspected by a quality roofing contractor.
This is a major benefit to having Guardian Roofing as your roofing contractor.
Many companies "Clean" roofs and perform minor repairs. Other companies do a pretty good job of replacing roofs.
At Guardian Roofing we perform major repairs and restorations and total roof replacements daily. All with our own crews of highly trained individuals. In fact, we are so confident in our repair processes, we back up our service with the Strongest Guarantees in the Industry!
Our focus is not just keeping roofs clean, it is to make your roof last and perform for as long as possible. So when we are done cleaning your roof and issues are easiest to discover, our technicians seek out potential issues to make sure your roof is ready for our unpredictable Northwest Weather!
If you have roofing concerns, or have not had your roof inspected in the last 5 years, request a free inspection!
Contact us to get started! We will schedule an evaluation with one of our roofing experts. They will thoroughly inspect your roof and report their findings. This is a complimentary service, there is no obligation to buy anything. Simply fill out the form on this page, or call the number listed.
Just over a year ago, I noticed a leak in my upstairs bathroom. I searched for good roofing company, and ultimately decided to take my business with Guardian Roofing based on excellent consumer reports and BBB rating. Unlike most other contractors, they set appointments dates that were most convenient to my schedule. (That's a plus!) They have a team of professionals that treated my house as if it was theirs and I sincerely appreciate that!. And also showed me where the problem (leak) originated. It only took them a day to complete the task; and left without a mess.
E Andres – Silverdale, WA