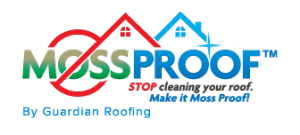 MossProof™ is a service developed by Guardian Roofing for Northwest Homeowners who want to make their roof look good, perform properly and last as long as it should.
Guardian Roofing was started by 2 individuals who are well known throughout the roofing industry for their high level of professionalism and integrity.
They have successfully assisted thousands of homeowners responsibly resolve their roofing issues for more than two decades.
Guardian Roofing expertly solves roofing issues for homeowners no matter what size the problem is. We are just as happy and equipped to perform minor services such as gutter cleaning and spot repairs, as we are to restore and replace roofs.
What this means to you is that no matter what your issue is, we will find it, and only recommend what is needed, and not automatically suggest replacing your roof.
If you have roofing concerns, contact us right away for a free evaluation.
Just fill out the form on this page, or call the number listed for a real time appointment.